Spaghetti Dinner Fundraiser Dinner

St. Luke's is bringing back it's historic and popular Spaghetti Dinner Fundraiser!!!
Saturday, October 12th from 4:30 pm – 7 pm
Tickets are $10 for adults and $5 for children (ages 5-12). Tickets include dinner and non-alcoholic drinks. Beer and wine can be purchased separately. Tickets can be purchased online or at the door!
Click Here to Purchase Tickets Online
Volunteers are Needed!!!
Click on the box below to for volunteer opportunities!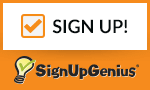 Desserts Needed!!!
We are looking for donations of simple desserts (bars or cookies). Click the button below if you are able to help!